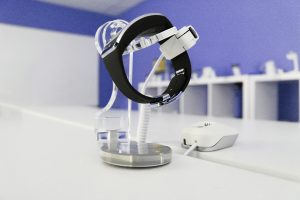 You asked; we listened.  The
Duo
 is VPG's latest alarming solution in accessory
security
, but it's also comparably one of the smallest solutions of its kind in the industry. Installed in just seconds, the
Duo
is a quick and easy way to ensure all products in your store are protected day-in and day-out.
We understand that the technology industry is growing and you need adaptable and reliable security that won't interfere with your everyday workflow; a solution that can support nearly every product that gets put on your shelf. The Duo is an ultrafast above-the-counter solution that can be installed in less than a minute! Unlike other solutions of its kind, the Duo is equipped with two security ports; allowing you to secure two devices with each Duo on your display table.
To make installation even simpler, the solution comes with a preinstalled battery that has over a year of battery life.  Every Duo is IR KeyFob accessible, so be sure to ask one of our team members how many Fobs will suit your staff's needs.
The Duo was designed to put your accessories in the limelight without stealing the show. Available in white and black, the Duo will easily blend in with a surrounding display fixture and allow your products to soak up the attention they deserve.
This tiny and economical accessory solution has the potential to be a game changer in your overall security program.
Reach out to one of our product specialists to get more insight and order yours today.