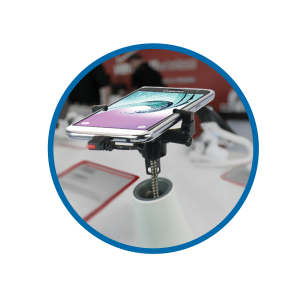 Is your store located in a high risk community? As we gear up for the last minute holiday shopping, retailers are keeping a close eye on those high-theft items this season. According the 2016 Retail Holiday Season Global Forecast, electronics and electronic accessories are expected to be some of the most commonly stolen items during the holidays this year. However, it's in the best interest that stores located in neighborhoods that are more theft-prone keep a close eye on these items year-round, not just the latter months of the year. Luckily, many VPG products have add-on high security options available. Adding these security options to your store is simple; there are a few different options to choose from:
Adding the DEFCON to your existing solutions
VPG's DEFCON, a durable cut-resistant cable solution, has been used around the world by companies that need a little extra protection and piece of mind. It can provide extra security to the existing Core, D-Sensor, and G5 solutions that you have in your store by simply replacing the tethering cord. VPG's DEFCON cord is one of the most durable tethering systems you'll find in the industry.
Using the DEFCON's lockdown feature
Whether you've already discovered the wonders of the DEFCON or are recently uncovering all of its benefits, a need-to-know  feature is the solution's lockdown capability. When combining the DEFCON with the D-Sensor or G5, use a locking nut to give yourself more control over how far the product can be lifted from the pedestal.
Including brackets and retailer clips
It's easy to boost security even without the help of the DEFCON with VPG's brackets and retainer clips. Adding these supplements to your existing solutions give your store an extra helping hand in the loss prevention department.
From the DEFCON to additional brackets and clips, VPG has an assortment of high security options for your store.
Talk to one of our loss prevention specialists to find out which add-ons will work with your existing solutions.