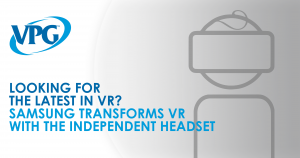 The next innovation from Samsung will be a tough one to beat. The multinational company confirmed Wednesday at their developer conference that their plans for virtual reality do not end with the Gear VR. Although the company's lead of R&D for software and services Injong Rhee did not delve into details, he did announce that the new wearable will be "wireless and dedicated," not necessarily working with a Samsung mobile phone.
The release date has not yet been announced. However, it's safe to assume that this new device could completely change the VR industry. Samsung's plans to invent a new standalone headset have the potential to be one of the industry's biggest competitors in terms of VR affordability.
Although the virtual reality industry is still in its infancy, VPG is on top of it.
Get in touch to find out more.