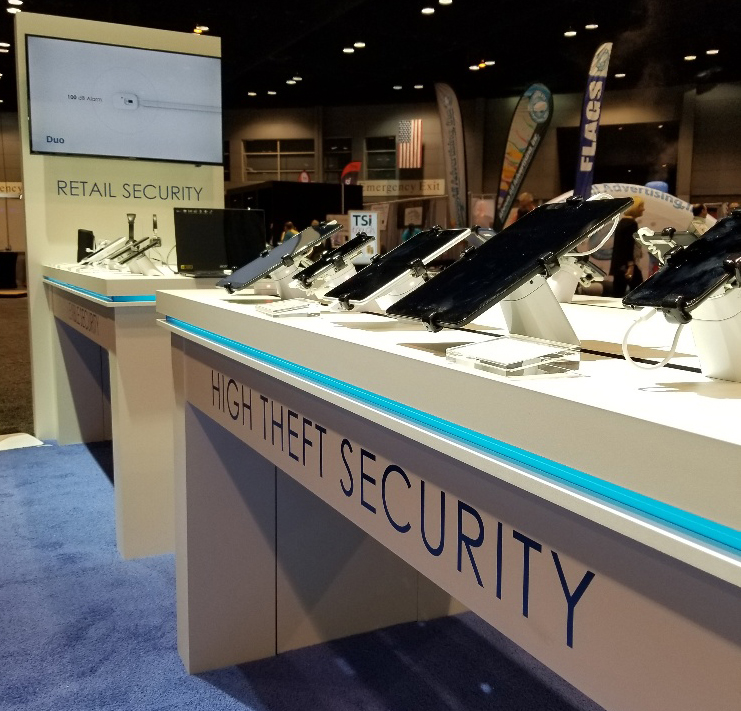 GlobalShop, known as the largest store design and at-retail marketing show in the United States, brought in more than 10,000 products and 900 suppliers to one location last week. The event took place over three days in downtown Chicago and was visited by many decision makers and influencers in retail industries from all over the world. GlobalShop was a hit and VPG truly stood out.
It took 45 days of preparation and support from many VPG departments. VPG's booth and display of products was visually stunning and massively appealing in contrast to most of the exhibitors. The booth's open floor plan and special lighting techniques highlighted VPG's security solutions. Its design provided an inviting, store-like floor plan that enticed visitors to interact with and experience our displayed products without feeling like stepping into a confined booth area.
On our displays were over 40 VPG security solutions with mobile devices, accessories and soft goods. The Titan L2 was selected and featured in Design:Retail Magazine @ RetailX. The layout and preparation for this article started weeks in advance with support from special projects, shipping, procurement, IT, engineering, human resources, account services, operations and sales.
As the industry leader in retail security products, we meet the accelerating demand for new generations of consumer electronics. Our in-house design, engineering and manufacturing capabilities enable us to meet short supply windows for customers that have urgent needs for replacement products, store remodels and/or new systems.