As part of the VPG's Adhesive Series, our goal is to help you secure your devices with some of today's best solutions.
We want to provide you with Adhesive Solution #2: Pre-Adhesive!

Let's Get Started!
Pre-adhesives offer a better surface area to adhere a security device to the back of the phone.
With a larger surface area, the adhesive security will have a better hold on the phone.
This allows it to adhere much longer.
When receiving the pre-adhesive, it will typically have a liner on it as shown here: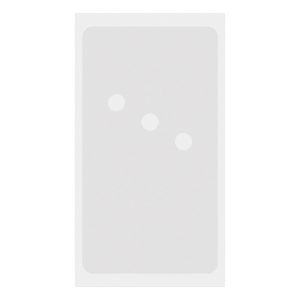 Placing Pre-Adhesive On Device
Remove the liner and adhere the pre-adhesive by placing the side that had the liner to the back of the phone.
Remove any air bubbles that may have appeared when you applied the pre-adhesive to the phone.
This ensures that the pre-adhesive is firmly on the device and will not come off when adding the security device.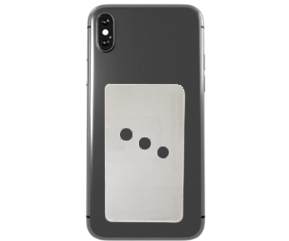 Ready the adhesive security you are using by taking off any adhesive liners on it.

Applying Security Device
Before applying the security device to the back of the phone, make sure that the tamper switch (typically found in the sensor of security devices) gets aligned with one of the holes on the pre-adhesive.
As shown here: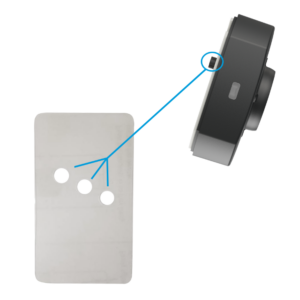 This is important because the tamper switch triggers the alarm.
If the tamper switch does not get placed in one of those holes, it will remain pressed down, therefore not going off if the phone is ever getting stolen.
If the sensor has a power coupler, you can plug it in now and then adhere the sensor to the center of the device.
Once placed, hold the sensor firmly down for 30 seconds to ensure it is fully on the surface.
You are all set to continue to install the rest of the adhesive security!
Since the pre-adhesive expands the surface area for the adhesive security, you can use it on any phone type no matter the material on the back.
In fact, we strongly recommend it on rubber back phones as we have seen success with the pre-adhesive fixing the adhesive failure on those devices.
That's it for the Pre-Adhesive solution!
If you have not had the chance to check out the Primer Stick solution, click here to view it!
Have you check out our blog post for VPG's Quick Tips for Applying Adhesive Bonds yet?
If not, click here to read it now!